MEN'S "UNITY" ZOOM RETREAT
This Morning
10am to 12 noon Saturday September 17, 2022
Zoom Meeting Link: https://us02web.zoom.us/j/85759691052
Meeting ID: 857 5969 1052
Dial In: 646 876 9923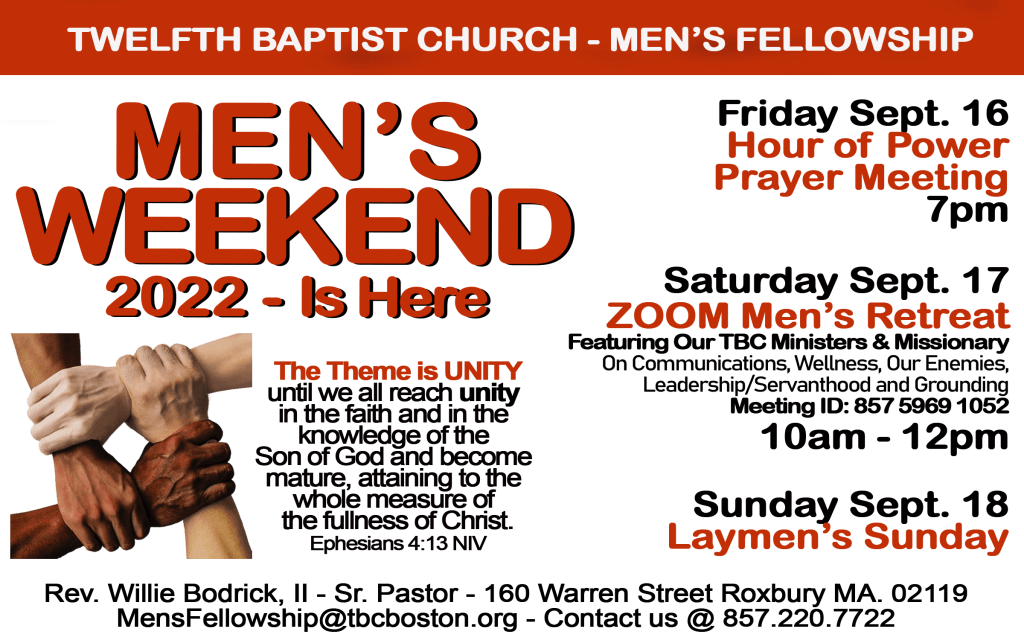 from Laymen's Sunday September 19, 2021 (photo by Denise Burton)
VISION STATEMENT:
To develop and strengthen the characteristics of Christ in the men and young men of TBC.
MISSION STATEMENT: To serve God through support of the Mission and Vision of The Twelfth Baptist Church with the unique callings that God has given to men.
Increase our knowledge of and strengthen our relationship with God that we may have the power through the Holy Spirit to stand and act in His righteousness as males created in His image.
SCRIPTURE:
As iron sharpens iron, so one man sharpens another. (Proverbs 27:17)
A father to the fatherless, a defender of widows, is God in his holy dwelling. (Ps 68:5)
And the LORD God took the man, and put him into the Garden of Eden to dress it and to keep it. (Genesis 2:15)
GOALS:
Help young men see Christ as the way the truth and the light in today's secular world.
Help fathers and all men understand and model the roles, responsibilities and relationships exhibited between God the Father and God the Son and apply them to our lives.
Support each other with prayer, biblical principles, and fellowship.
BIBLE DAILY READINGS – Daily Reading List
ZOOM MEETING SCHEDULE
WEEKLY GATHERINGS:
MONTHLY BUSINESS MEETING , (2nd Saturday of each month)
MEN'S FELLOWSHIP OFFICERS:
President – Sidney H. Burton, Jr.
Vice President – Anthony Lopez, III
Secretary – Warren Montgomery
Assistant Secretary -Markel Crockton
Treasurer – Darryl Simpson
ICONs of the Bible – https://fineartamerica.com/profiles/2-cornelius-lewis