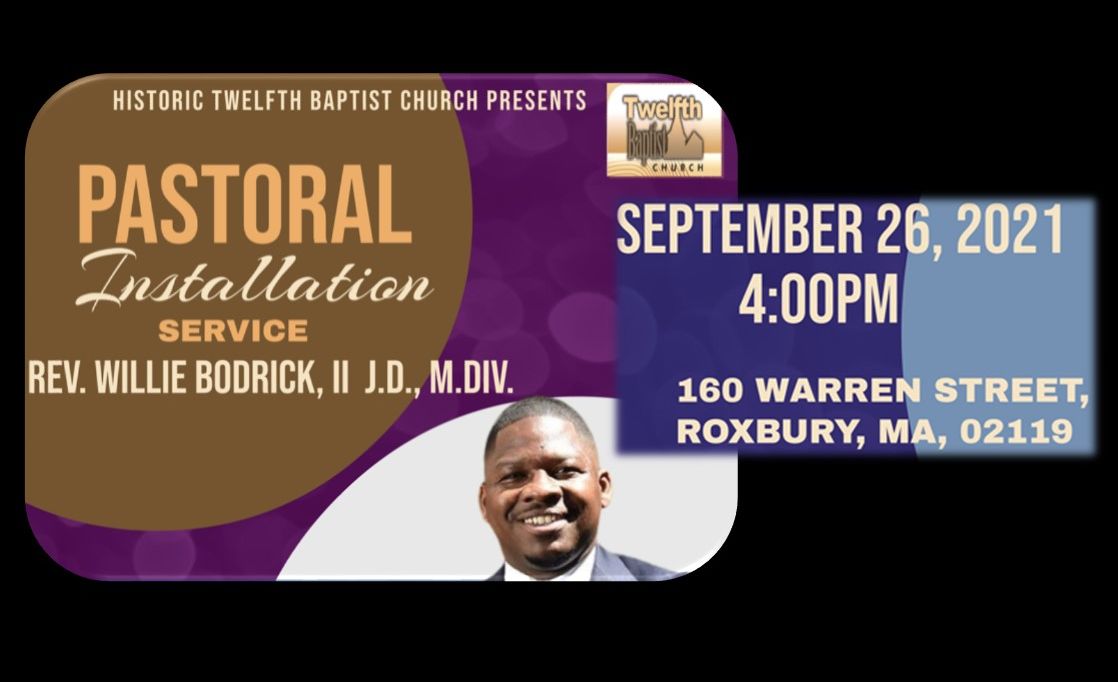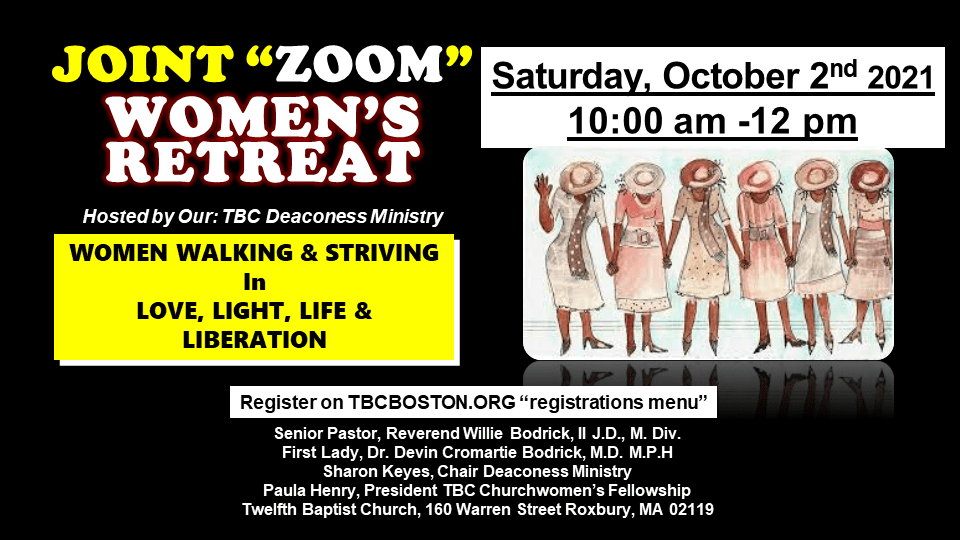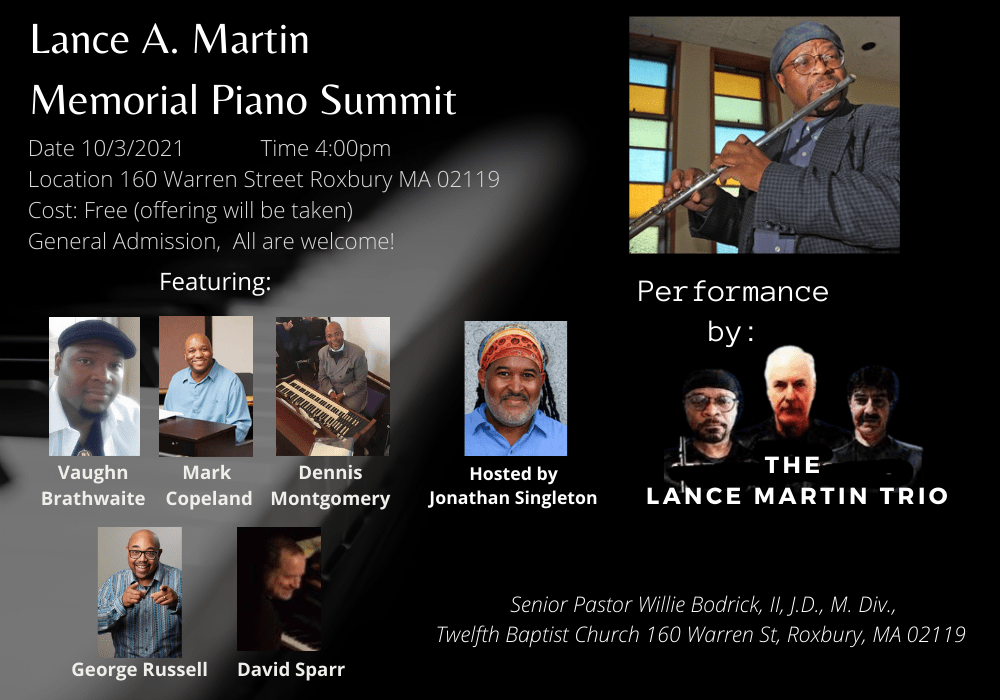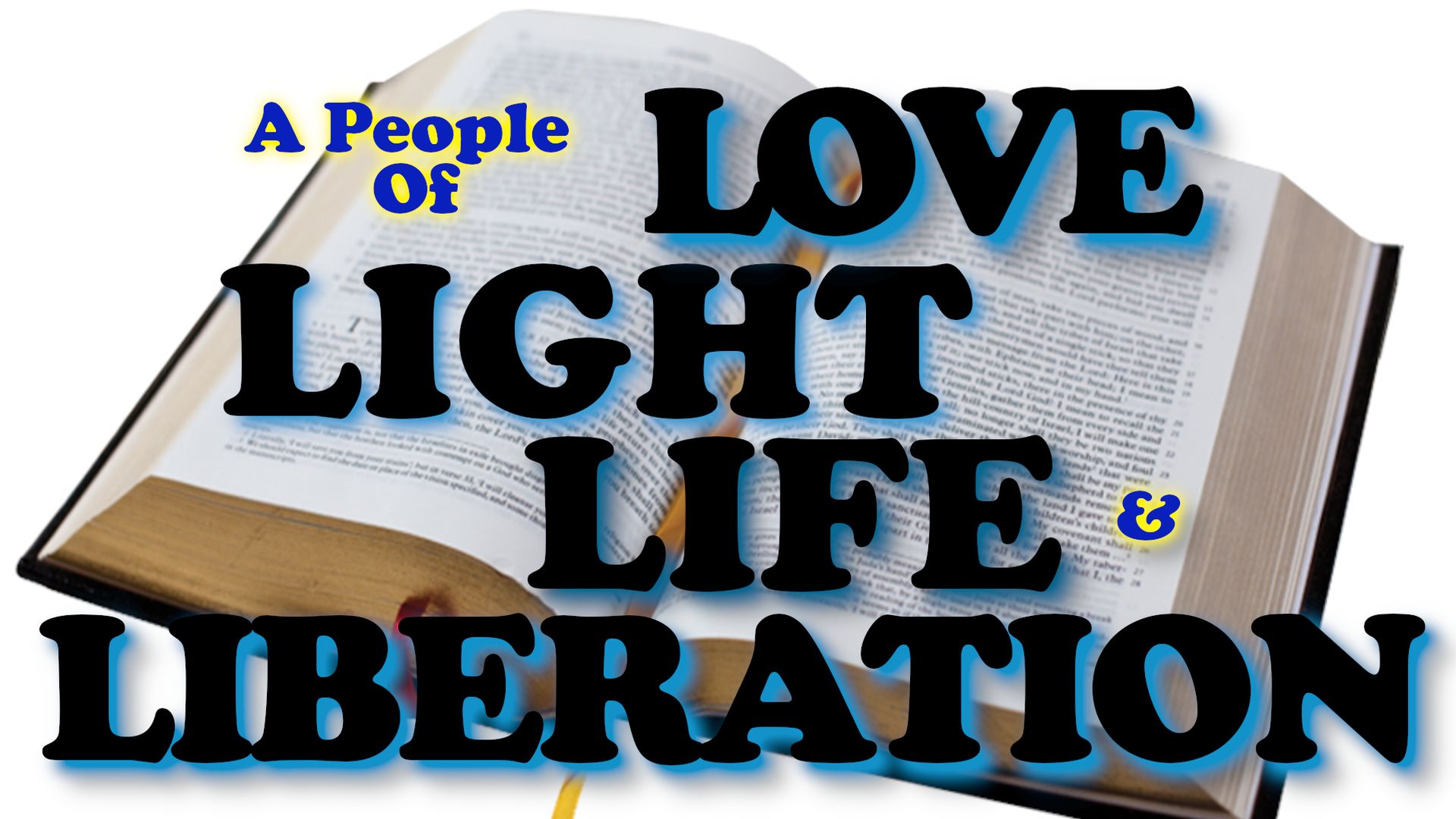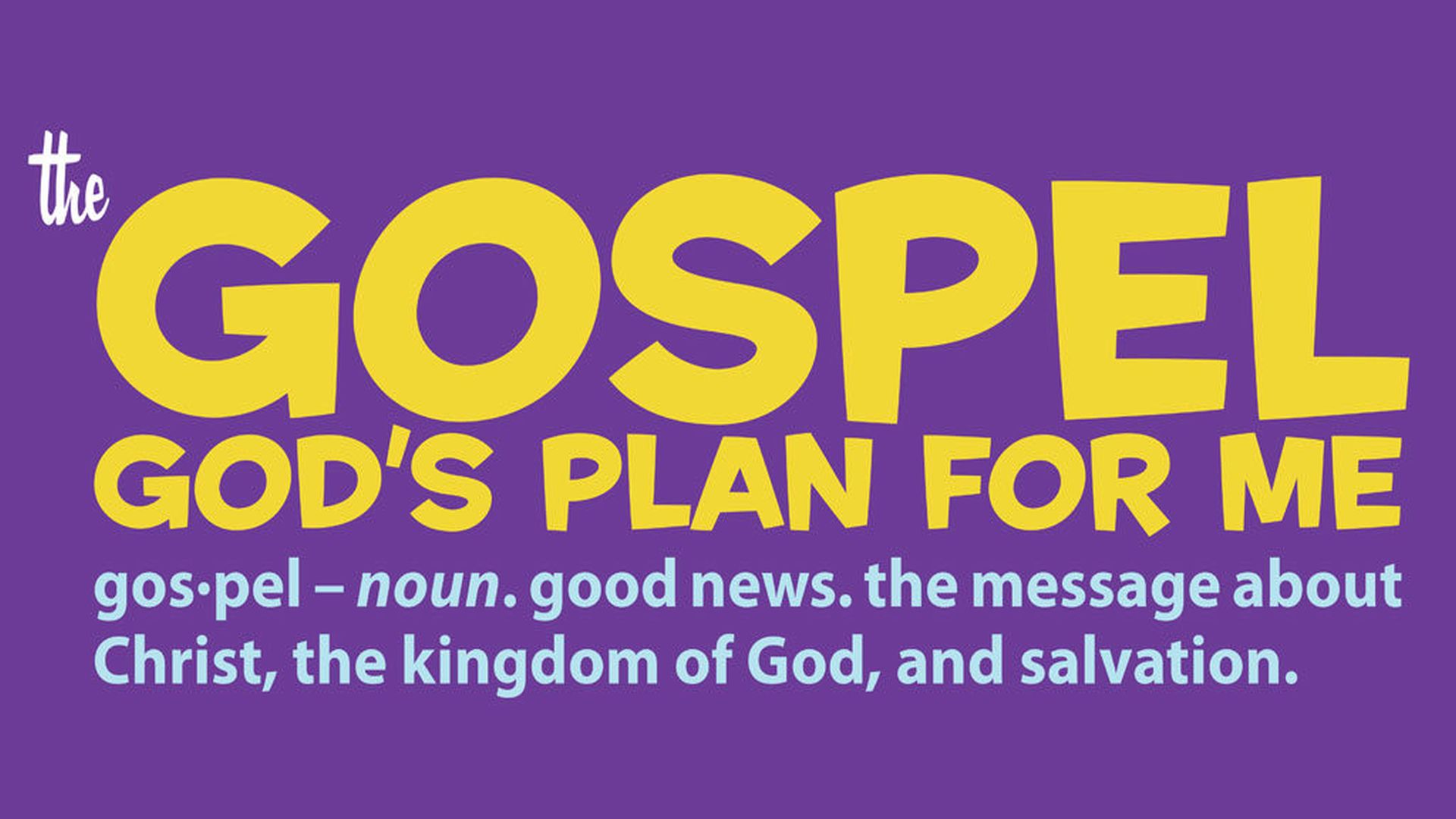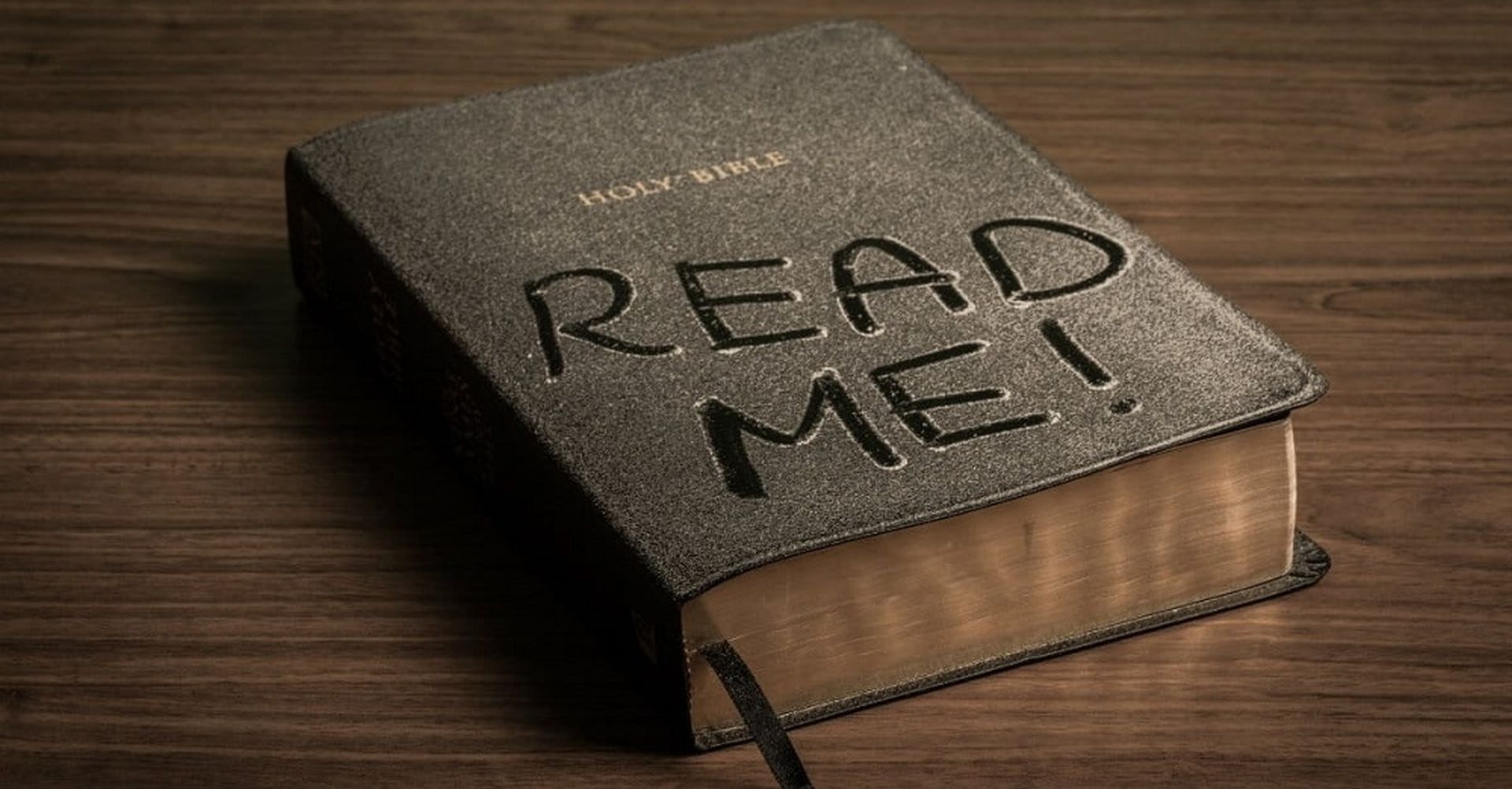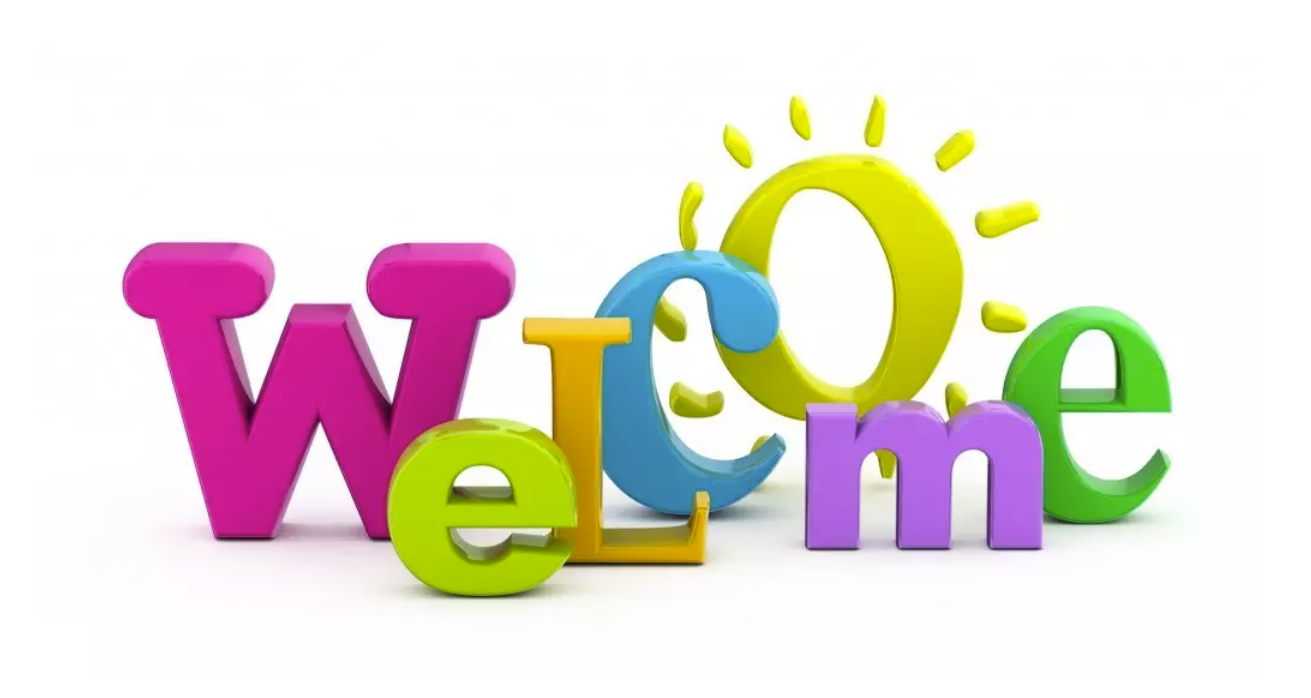 TBC 61st Womens Weekend v3 1000
LoveLightLifeLiberation-72
10:45am Sunday September 26th
"WORHIP SERVICE"
4:00pm Sunday September 26th
"PASTORAL INSTALLATION"
Sanctuary & Stream
Senior Pastor Rev. Willie Bodrick, II
Sanctuary Open to 65 Worshipers–Facebook – YouTube – Instagram
| | | |
| --- | --- | --- |
| | OR | |
Rev. Willie Bodrick, II – Senior Pastor | Rev. Jeffrey Brown Associate Pastor | Dr. Arthur T. Gerald, Jr., Pastor Emeritus
Bro. Jonathan W. Singleton Minister of Music
Ministers in Residence: Min. Shirley Adams – Min. Elizabeth Crockton – Min. Rachel Idowu – Rev. Bernard Spencer
Our In-Sanctuary Worship Service will now accommodate 65 persons as well as Ministerial Team, Musicians, and A-V personnel. You must wear a face mask (gloves optional). Sanctuary Doors open at 10:00 A.M.
IMPORTANT DATES
PASTORTAL INSTALLATION SERVICE –

Sunday September 26th @ 2nd Service Time Pending

– In Sanctuary and Online
JOINT WOMEN'S ZOOM RETREAT

Hosted by the Deaconess & Women's Fellowship

– Saturday October 2nd 10a-12p – Registration Pending
TBC WOMEN'S WEEKEND – Friday to Sunday – October 22,23 & 24 –

"Save The Dates"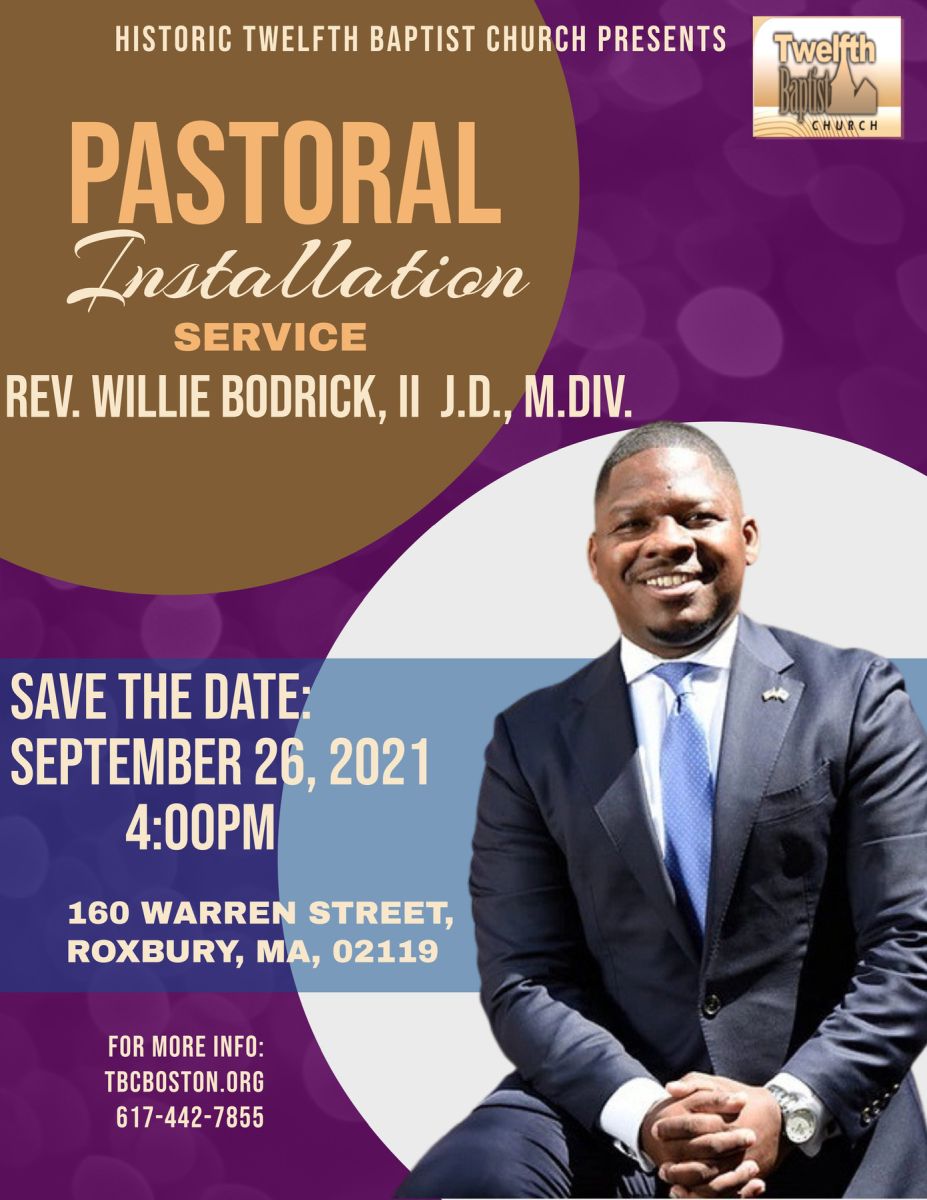 INSTALLATION SERVICE @ 4:00pm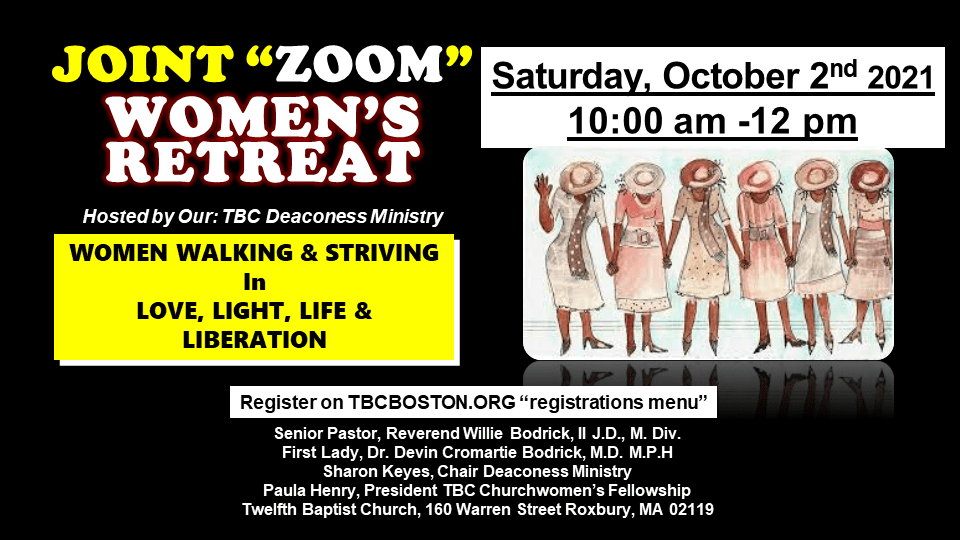 Register for – Saturday's Oct. 2nd ZOOM Workshops – Here – No Charge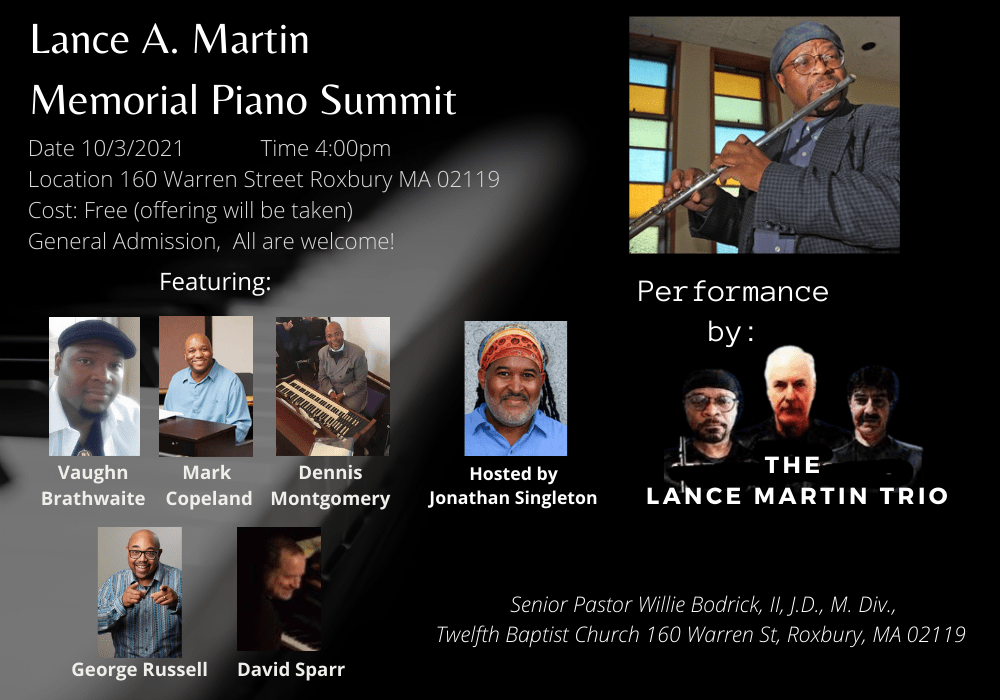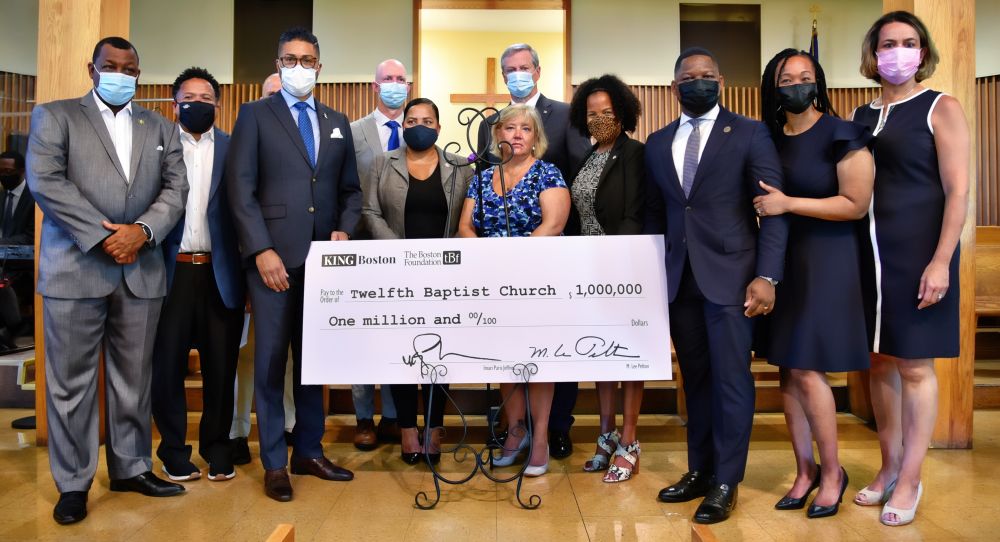 Presentation of the One Million Dollar King Foundation award from the Boston Foundation (funded at $50, 000 a year) 
SICK & SHUT IN UPDATES
Bro. Jeffrey Jackman is in Beth Israel Deaconess Medical Center (Boston).  He is being preparing for surgery.  He asked the nurse to call the Central Office just to tell us but to offer no other information.  Please keep him lifted in prayer.  If we get more information I will let you know.
Sis. Mittie Thomas is in Beth Israel Deaconess Hospital (Milton).  She was experiencing dizziness.  They have determined she is allergic to a new medication the physician prescribed for her.  I believe she will be coming home today or tomorrow.
Coach Simpson is requesting prayer for his  mother-in-law, Olivia Shaw.  She had a mastectomy 16 years ago, but now the cancer has returned.  She is undergoing tests to determine the next course of action.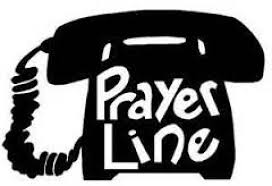 DAILY DIAL IN PRAYER: Throughout the Pandemic on our Prayer Line:
NEW PHONE CALL IN Effective Sept. 15, 2021
Dial 267-8907-9495 | then enter Meeting ID 470-706-869 | then press#
– Monday-Saturday: 12:15pm – 12:45pm,
– Thursday: 6:00am -7:00am, Fridays 7:00pm – 8:00pm, and
– First Friday: 6:00am – 7:00am. and 7:00pm – 8:00pm
Thank you, I pray your safety as well as God's blessings upon you and yours! Pastor, Willie Bodrick, II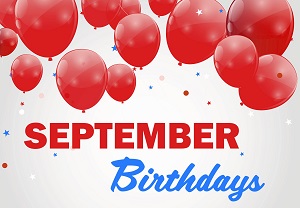 HAPPY BIRTHDAY SEPTEMBER SENIORS:
9/1 Ruthie Phillip | 9/8 Sandra Raines | 9/9 Edward Woodson
9/14 Kathrina Caiby | 9/14 Leola Phillips | 9/17 Christine Spencer
9/19 Charles Johnson | 9/20 Marcella Brown | 9/30 Doris Johnson
BEREAVED FAMILY CONDOLENCES
Bereaved Family Condolences and Information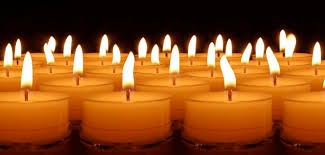 Jeremy Beatty (son of Carol Walker)
Brother Todd Gibbs (son of Barbara Gibbs)
Brother. Curley Green – Keep Curley in your prayers.
Charlene Henderson and Mable Graham
Mr. Vance Horne (brother of Sis. Willia Cooper)
Sis. Paula Johnson
Sister. Edna Little (Not the Usher)
Sis. Mary Lue Moore will be transferred to another Nursing Facility,
Hozel Murray
Mrs. Doreen Occean (sister of Bro. Arthur James),
Donna Reardon,
Leo Reardon, Cusin of Sheila Long
Sis. Rudell Peeler,
Sister Ruthie Phillip,
Sis. Sheila is requesting prayers for her mother, Elaine Long, her children's grandmother, Sis. Sororaya Harley and for herself.
Duval Phillip (son of Ruthie Phillip)
Deloris Rodriquez
Depriest Speller
Kenneth Wade (son of Dorothy Bell)

.

Mr. Daniel Watson, (our custodian)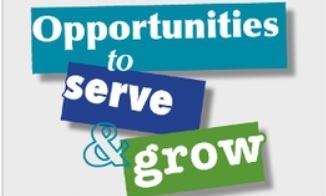 MINISTRY OPPORTUNITIES:
Several of our ministries are in need of additional members. Why not consider joining one – Dorcas Partnership see Sis. Flossie Pearson; Senior or Junior Ushers see Sis. Frances Glenn- Chalmers; A-V Ministry see Bro. Sidney Burton; .
NEW MEMBERS PREPARATION CLASS:
There is a Zoom Membership Preparation Class on
Wednesday nights 7:30 P.M. Call Central Office for details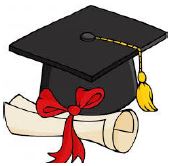 CONGRATULATIONS COLLEGE GRADUATES:
First Lady Devin Cromartie Bodrick M.D. completed 4 year Residency in Psychiatry at Boston University Medical Center.
Sis. Alexandra Maund received her Master of Arts in Media & Strategic Communication from George Washington University.
Sis. Karen Wier received her Master of Divinity from Gordon Conwell Theological Seminary. Sis. Wier graduated MAGANA CUM LAUDE while holding down 2 jobs!
UNDERGRADUATES:
Lia Sims-Okundaye BA Communication University of Southern New Hampshire
Marnier Crockton, Sierra Smither, and Angelica Woodson all from Hampton University.
HIGH SCHOOL
Jamil Boykin – Cristo Rey High School to Wentworth Institute
Jaiden Farrington – Boston Collegiate Charter School entering Hampton University
FRIENDS OF TBC:
Aaron Brown (son of Rev. Jeffrey Brown) graduated from Temple University.
Cecilia Molina Nobles (wife of Bro. Maurice Nobles, III) BS Business Management Framingham State University.
Anthony Wright New England College,
Austin Haynes, Hampton University –
Parker Simpson (Coach Simpson's son) Worcester Polytechnic (with High Honors).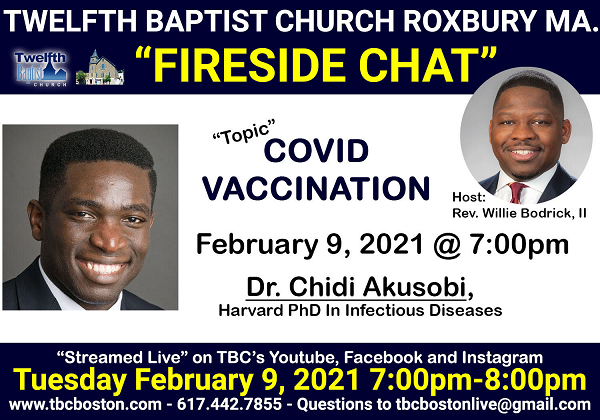 LEARN ABOUT COVID-19 VACCINATION
with Dr Chidi Akusobi, Harvard PhD in Infections Diseases
more "Please Subscribe to our YouTube Channel"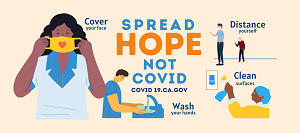 "STAY SAFE" – HEALTH TIPS REGARDING COVID-19 DISEASE: Avoid close contact with people who are sick; avoid touching your eyes, nose, and mouth; stay home when you are sick; cover your cough or sneeze with a tissue, then throw the tissue in the trash; clean and disinfect frequently touched objects and surfaces using a regular household spray or wipe; wash your hands often with soap and water for at least 20 seconds especially after going to the bathroom; before eating, and after blowing your nose, coughing, or sneezing.

If my people, which are called by my name, shall humble themselves, and pray, and seek my face, and turn from their wicked ways; then will I hear from heaven, and will forgive their sin, and will heal their land. II Chronicles 7:14

TUESDAY – "SCHOOL OF THE BIBLE":
Tuesdays 7:00pm – 8:30pm via Zoom.
ID 851 1613 0524 password 016606.
FRIDAY "HOUR OF POWER" PRAYER SERVICE:
Our Friday Evening Prayer Service will now be available on Zoom 7:00pm – 8:00pm
ID 861 3042 5423 password 927285. – ZOOM LINK
If you wish to call in the telephone number is 1-929-205-6099. passcode 927285
Schedule and facilitators

SUNDAY SCHOOL: – "FOR EVERYONE"
9:30am – 10:15am – HAYNES ROOM
With Leaders Elizabeth Crockton, Leola Philips, and Karen Weir

9:30am – 10:15am – ADULT MEN AND WOMEN – Hester Hall Class:
With Min. Rachel Idowu, and Min. Ronald Jones Zoom class Sundays 9:30-10:15 A.M.
ID 847 2223 5972 password 632546
If you wish to call in the telephone number is 1-929-205-6099.
ACTIVE DUTY
Carols Idiokitas deployed to South Korea for 9 months
WATCH PREVIOUS SUNDAY'S SERVICE ON BOSTON COMMUNITY ACCESS TV

WATCH OVER 310 – TBC SERVICES ON – YOUTUBE
"Any Time 24 hours a day – Channel "Twelfth Baptist Church"


Sunday Evenings – Boston Community Access Cable Channel A-23 – or their web @ – BNNTV.org
Please Check Out streaming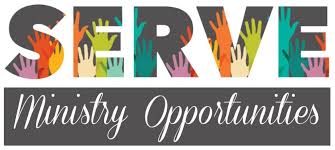 OUR MISSION STATEMENT
In view of the Great commission of our Lord Jesus Christ
(Matthew 28:18-20),
in thanksgiving for His great love for us,
and in obedience to the Word of God,
the mission of Twelfth Baptist Church is:
To extend the love of God to others
through proclaiming the Good News
and providing Christ-centered ministries
to meet the temporal needs of the people whom God loves;
To build up the body of Christ
through prayer, fellowship, teaching
and exercising our faith; and
To worship God in our corporate and individual lives.
OUR MINISTRIES
After School Program – American Sign Language – Audio-Visual -Baby Dedication – Black History Committee – Bookshelf – Chancel Chorale – Chapel Choir – Children's Choir – Children's Nursery – Choral Ensemble – Christian Preschool – Clothes Rack/Thrift Store – Computer Center – Dorcas Ministry – – Exercise Ministry – Flower Ministry – Food Pantry Ministry – Girl Scouts Ministry -Grant Writing – Handbell Choir – Intercessory Prayer Ministry – Junior Church Ministry – King Solomon Ministry – Kitchen Ministry – Liturgical Dance Ministry – Nurses' Ministry -Prison Ministry – S.A.M.H. Housing – Security Team – Shepherding Ministry – Summer Enrichment Program – Sunday Bible School – Team 13 – P.A.M. – Telephone Ministry – Transportation Ministry – Ushers' Ministry – Visitors' Welcome –
Youth Choir
CHURCH FELLOWSHIPS
Churchwomen's Fellowship – Distinguished Brotherhood of Senior Men –
Liberian Fellowship – Men's Fellowship
Senior Citizen's "Swingers" Fellowship – Youth Fellowship
OUR VETERANS
Clarence W. BELL, Jr. – John (Jack) COOPER – Allen G. CRADDOCK, – Charles E. DAWSON, – Mollie DAWSON, – Isiah FLOYD, – Donalexander GOSS, – Curley GREEN , – Jimmy HUMPHREY, – Arthur JAMES, – William H. JANEY, II, – Dorothy JOHNSON, – Anthony LOPEZ, III, – Hozel E. MURRAY, – Maurice NOBLES, Jr., – Raymond NOBLES, – Rev. Bernard SPENCER, – Khephren O'NEAL
" SEE EVENTS / SAVE THE DATES "
Please Note: Some meetings and activities are specific to TBC members and are subject to change.
Any questions can be addressed to our Central Office
@ 617 442 7855 | Fax: 617.442.8784
Other Contacts
Rev. Bodrick 617.442.7854 – PreSchool 617.427.0273
After School Program: 617.427.5158